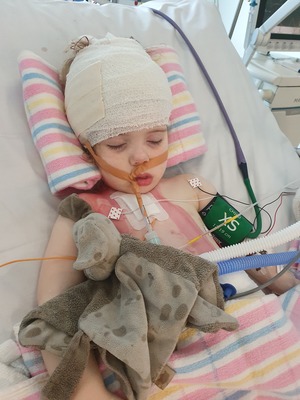 It can be difficult to discern a problem with your little ones.
An occasional vomit and general lethargy- while concerning – is nothing out of the ordinary and can be diagnosed as a temporary cold or intolerance.
For Rae and Josh McLeod and their little three-year-old girl, Ari, there was nothing unusual about their daughter's behaviour before doctors at the Royal Children's Hospital discovered a brain tumour the size of an apricot growing in her brain.
The Selby family have since spent a month at the hospital.
She was a little bit sick for about a month up until we took her into hospital. There was nothing overly concerning," Ms McLeod said
"She'd sometimes have a bit of a power spew once every couple of days and then be fine, so we thought maybe upset tummy or intolerance problem."
"We had three to four trips to the doctor and they said all of the symptoms were explainable by an ear infection or UTI."
"We had her on antibiotics and she was on the improve and started feeling better and got a bit more lively, but then she didn't really get any better than that."
When Ari suddenly became worse despite being prescribed steroids and antibiotics by doctors, Rae rushed her to the Royal Children's Hospital.
"We got to the hospital Sunday afternoon and they all thought it was a bit odd and strange, but they weren't overly concerned, just concerned that they didn't know what was going on."
"They did blood tests and the blood tests came back clean… everything was normal and then they did a CT scan."
The CT scan revealed a large build up fluid and a tumour the size of an apricot.
Following the discovery, Ari immediately went into emergency surgery so surgeons could drain the build-up of fluid.
Since then, Ari has undergone a long complex brain surgery to remove as much of the brain tumour as possible. Although 80 per cent of the tumour was removed, the remaining 20 cannot be touched due to its close proximity to Ari's brain stem.
The ordeal is far from over, with Ari undertaking rehabilitation and radiation therapy over the coming weeks.
A GoFundMe has been set up for the local family to cover the medical bills, and to hopefully ease the burden placed on the family, who are also expecting a second child.
"The tumour will always be there and always be a chance of relapse because there is a little ball of tumour that's left there.
While Ms McLeod said Ari has been amazing throughout the entire process, it has taken a toll on all of them.
"She's been a little trooper," Ms McLeod said.
"The first week after the surgery was difficult. She's always been a very chatty and because of the surgery she lost her ability to speak and lost her control of her eye movement and motor skills."
"She's gone back to her normal attitude now and we realised in the months leading up to all the surgeries that she was just slowly fading away and now she is slowly coming back to life."
You can join Ari's Army and donate to the GoFundMe at https://www.gofundme.com/f/ari039s-army