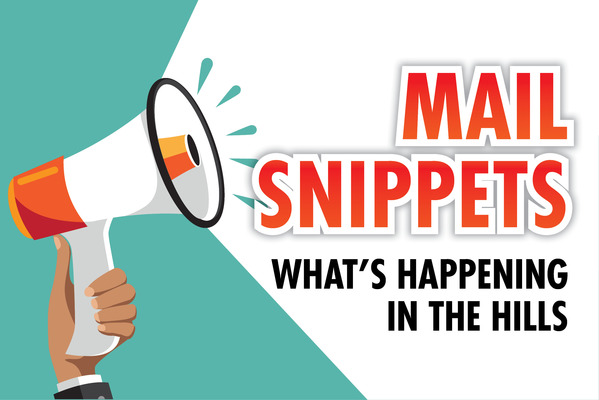 TVAG AGM
The Tecoma Village Action Group will be holding its Annual General Meeting on Monday 25th November At Bonsai Bali Restaurant, Tecoma starting at 6.30pm.
Attendees who would like to stay on for dinner are asked to contact TVAG'S number, 0407 862 152 to book a place.
DRMC turns 40
The Dandenong Range Music Council is celebrating 40 years of community music. As part of the 40th anniversary a historical book of the group is being published and DRMC are asking for anyone who has been involved in the group to email a quote, paragraph or photos from their time at DRMC and include memories or highlights. Emails can be sent to drmc@drmc.org.au or for further information call 9754 6566.
Upwey Gardening Group U3ADavid Moncrieff will present a power-point talk on the art of keeping bees, hives and honey. The talk will take place at Upwey Senior's Community Centre, 6 Mahoney Street, Upwey on Wednesday 13 November at 7.30pm. Supper will provided. For any enquiries contact Barb on 9754 3877.
Country Music Show
The Upwey Country Music Club is presenting its regular Walk Up – Open Mic concert, on Sunday 3 November, at the Guides Hall in Underwood Road, Ferntree Gully, from 12.15 – 5 pm. Artists perform songs in the Country, Bluegrass and Folk genres. New singers, musicians, and bands are always welcome. There is an entrance fee of $7 ($5 for members). The club runs regular concerts on the first Sunday of each month. For any enquiries call Graham on 5964 8298.
CFA at Kallista Market
The Kallista- Patch CFA will have a stall at the Kallista Market on November 2, December 7 and 21 with a range of cakes, jams and preserves, produce, plants and a sausage sizzle.
Anyone who would like to donate fresh produce on any of these dates can contact Helen on 0455 502 307. Deliveries to the market can be made between 8.00 and 9.00am.
Open Gardens
The Nook and Tavisbrook Garden will be opening their gardens to the public on Saturday and Sunday, November 16 and 17, 2019 from 10am until 4.30pm. There is a $10 entry fee to both gardens, and all proceeds to Monbulk CFA.
Kallista Community Market
The Kallista Community Art and Craft Market is taking place on Saturday 2 November at the front of Kallista Community House. There are all sorts of homemade crafts and refreshments available to buy. For site booking contact Teena on 0421 674 990
Diggers spring workshop
Dig a bit deeper at a Diggers gardening workshop at Cloudehill Gardens on 1 November. Spring sessions include Starting Your Spring Veggie Patch, Slow Flowers with The UK's Land Gardeners, A Fork to Fork Experience with Paul West and Back to Basics Gardening Essentials with Diggers Club experts.
Friends of George Tindale Memorial Garden
Head to the Friends of George Tindale Memorial Garden for new monthly plant sales. Held the second Saturday each month from 10am to 12pm. The Friends of Tindale Gardens sales will focus on seasonal plants, propagated from their collection and donated from the Friends' gardens.