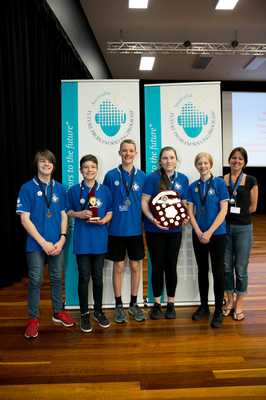 Five Emerald Secondary College students will be travelling to America next year, after winning the Future Problem Solving Australian National Championships for their reverse vending machine (RVM) design.
The students competed against 24 schools from all over Australia and Tasmania at Moreton Bay College in Brisbane on the weekend of 19 October.
The Emerald Secondary College team dubbed STOP (Stop Trashing Our Planet), were the 2019 National Community Problem Solving Champions, with judges commending their innovative reverse vending machine design.
"Your display was an excellent explanation of your project scope, what you have achieved and was visual stimulating," stated the judges.
"Congratulations on achieving such a great result, including installing RVM and wider outreach. "
"You are to be commended on managing expansion of your project and the outcome you have achieved."
That outcome includes a fully functional RVM machine at Emerald Secondary, and a second RVM machine in Emerald Main Street.
"We were up against nine teams and it was quite a nerve racking experience, but we managed to pull through and come first, which was really, really exciting," Christian Stammer said.
The students' reverse vending machine is an incentive-based idea, which provides candy or money when the user recycles.
"When they recycle their bottle or can, they can get a reward and the idea of it is to reward good behaviours like recycling plastic bottles."
Once collected, the bottles are saved from landfill and recycled responsibly.
The students will now represent Australia next June at the World Championships and a GoFundMe will be set up to help them get there.
Until then, they plan to continue advocating for RVM recycling and will be pushing for the State Government to introduce RVM recycling in Victoria.