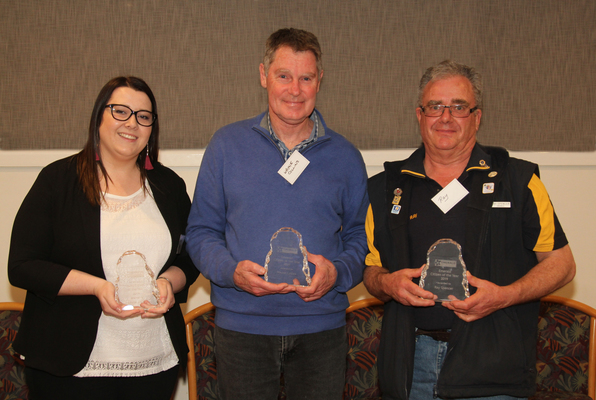 The competition was too close to call at this year's Emerald Village Association (EVA) Citizen of the Year awards, with judges awarding the title to two very worthy winners.
Both Ray Spencer and Wayne Collins were recipients of this year's Emerald Citizen of the Year award, with Avonsleigh local, Emma Jackel awarded with the Youth Citizen of the Year award.
Judges stated that all awardees have served Emerald for many years in an unassuming, humble manner and have never sought personal recognition. These awards sought to rectify that by awarding them with Emerald's highest accolade.
As the Emerald Lions Club President, Ray Spencer has been at the forefront of change within the Emerald region, and has been a passionate supporter of the Lions Rural Aid and Disaster Relief, helping farmers with stock feed.
Mr Spencer is also the chairman of the Emerald Co-op and has been an enduring member of the Emerald Mechanics institute.
Sharing the Emerald Citizen award with Mr Spencer was Emerald resident Wayne Collins, who founded the Emerald Centre for Youth and Outreach (ECHO).
For over 30 years, Mr Collins has dedicated himself to improving the lives of others through developing youth programs, and effective disaster relief support services and programs that are designed to strengthen family life.
He is a regular speaker at emergency planning and resilience forums and has been a vital part of the Emerald Emergency Planning Group.
Speaking to the Mail, Mr Collins said ECHO youth services and the Ready2Go program was borne from a clear need in the community.
"We were involved in our local church and we just started working with kids and the work just grew and grew and grew to the point where we just couldn't keep it going as volunteers," he said.
"I'd been a CFA member at Clematis and a big break came in 2009 in a rather horrible way."
"We got called to help after the Black Saturday fires. A big evacuation centre was set up in Whittlesea and we started working with kids and it was really after that, that we took what was a small group of volunteers locally and turned into the emergency support team."
"The emergency planning group has been going for years, but we restructured that and the Ready2Go program took off."
The Ready2Go disaster resilience program partners trains volunteers with those who might find themselves in trouble in cases of extreme weather, such as elderly people or those with a disability.
Despite receiving a Queen's Award and a Cardinia Citizen of the Year award, he said the community nominated Emerald Citizen of the Year award was bittersweet.
"I've received a Queen's award out of the Australian honours and I've received citizen of the year for Cardinia but this is the best. Being nominated by your peers, that is pretty cool."
"And to share it with someone like Ray Spencer is just awesome."
This year the Emerald Village Association also awarded a Youth Citizen of the Year award to Avonsleigh local Emma Jackel, which was the first Youth Citizen award in many years.