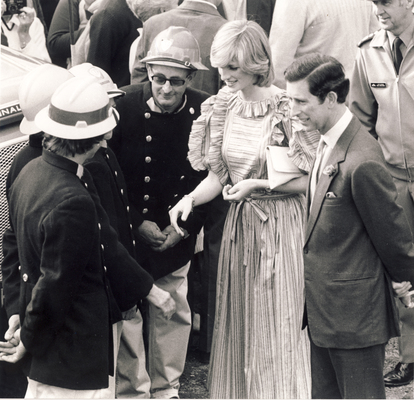 PRECEDE
For the past four decades, The Ranges Trader Mail has been at the forefront in bringing the community's hot issues, triumphs and tragedies to readers. We take a look back at some snippets of news from the past 40 years.
1979
A national identity visited the Trader's printing plant, much to the delight of young Murray Armitage. Murray's Dad owns Valley Graphics, the company managed by the Trader's founding publisher Don Fitzgerald, thought it would be a great idea if Shirl's Neighbourhood could come "to see Dad's factory". So Shirl and his offsider Norm the Kangaroo fronted up, much to Murray's delight and a report of the visit made the popular children's TV show.
1980
The theatre group that was to become The Gemco Players staged a highly successful first production, The Furtive Fortunes of Fickle Fate, at the Emerald Community Hall, under the direction of David Greenaway.
1981
A large crowd attended the funeral of Emerald and district's first medical practitioner Dr Ian MacLeod Murphy. Dr Murphy moved to the area with his wife Margaret after retiring from medical practice in Hampton. The couple originally intended to raise turkeys on their property, but word soon spread that there was a doctor in the area and he wound up providing medical services around the clock for more than 30 years, making many house calls on horseback.
1982
The old St Joseph's Catholic Church in Emerald was destroyed by fire. Fire units from Emerald, Menzies Creek and Clematis attended but were unable to save the building. The church served Catholic worshippers from 1914.
1983
Cockatoo, along with Upper Beaconsfield, bore the brunt of the devastating Ash Wednesday bushfires. An impressive effort by service utilities, government agencies, charitable institutions and individuals helped the townsfolk get back on their feet. Hundreds gathered a Cockatoo only weeks after the fires to catch a glimpse of royal couple Prince Charles and Princess Diana, who rescheduled their tour of the country to meet people impacted by the bushfires.
1984
Former Emerald Salvation Army commander, Lieutenant Rodney Barnard, was named Emerald Rotary Club's Citizen of the Year. During the Ash Wednesday fires, Lt Barnard was instrumental in coordinating relief for the victims and ferrying food to the fire front. In August, the newly constructed Pine Grove Hotel in Upper Beaconsfield reopened, having been destroyed in the bushfires.
1985
Work commenced on the $1 million Lysterfield Lake Park development project – which included walking tracks, two jetties, parking for 580 cars and 90 boat trailers and an extensive lakeside picnic and barbecue area.
1986
Macca, a five-year-old German Shepherd, was presumed dead by his owners Greg and Yvonne Wallace of Macclesfield after he went missing. He was located four days later at the bottom of a 50 metre mine shaft and rescued unharmed.
1987
Victorian Premier John Cain described the Emerald Post Primary School as "an example of the future" in an official opening ceremony. "The school is the culmination of 15 years of hard work by the local community," the Premier said.
1988
Seven thousand people joined in the Sherbrook/Pakenham bicentennial celebrations at Emerald Lake Park. Activities included a Digger's Breakfast at the Emerald Community House, a grand parade, kite making, face painting, clowns, music and a reenactment of the First Fleet on Emerald Lake with decorated paddle boats and row boats.
1989
Steam train driver Ian Barkla celebrated 40 years of work on Puffing Billy. Ian started as a fireman on 9 April 1948 at Upper Ferntree Gully and graduated to driver in 1955. He was fireman on the last locomotive out of Gembrook in 1953, when the Victorian Railways closed the line to regular traffic.
1990
Ruth Tindale was awarded an Order of Australia medal for services to conservation and the environment. Mrs Tindale and her husband established the George Tindale Memorial Garden in Sherbrooke.
1991
Brad Camp clocked a new race record of 39 minutes, 30 seconds to win the 10th Great Train Race with Puffing Billy. A total of 176 runners beat the train and it was the third time Brad had won. The first woman to finish was June Petrie in 50 minutes, 18 seconds.
1992
Harold and Mabel Coulson of Monbulk celebrated 70 years of marriage. Mabel, 97, and Harold, 98, married in South Wandin in 1922 and said mutual support was the key to their long and happy marriage. "We've always worked together and done everything together," Mabel said. "There aren't many couples who get to enjoy each other for this long. It's marvelous."
1993
Artists, conservationists and communities across Australia were saddened to hear of the passing of pioneer sculptor William Ricketts, regarded as one of the country's top artists. He was born in Richmond in 1899 and moved to Olinda in 1935, where he purchased a four and a half acre property for 425 pounds. Soon after, he began creating his famous statues and sculptures of Aboriginals.
1994
Councils in the region were dissolved and four commissioners were appointed to the Shire of Yarra Ranges until 1996. Chief commissioner Richard Longmore and commissioners Christine Fyffe, Jim Ramsay and Wal Elms were sworn in at the former Lillydale Shire Office by acting chief executive Eric Howard.
1995
Edmund Williams wrote a two-part account in January of sightings of a puma near his Belgrave South home in the 1970s. In February Dick Cleary told Trader readers of more than a dozen sightings of a "bloody big cat" near his Macclesfield home.
1996
More than 100 Olinda residents met with Mountain Police District Commander Chief Supt Peter Graham and Monbulk MP Stephen McArthur in a campaign to keep the Olinda Police Station open. Later in the year Mr McArthur announced a $500,000 Community Support Fund grant for the restoration of Gembrook Railway Station.
1997
The horror of bushfires revisited the Dandenong Ranges in January. Arson Squad detectives said fires, which claimed the lives of Ferny Creek residents Graham and Jennifer Lindroth and their neighbor Geneveive Erin, were deliberately lit. In August, the paper changed its name from Yarra Rangers Trader to The Rangers Trader and moved offices to Monbulk. Managing editor Don Fitzgerald retired in December after 17 years.
1998
Thousands of people turned out to witness Puffing Billy make history when the train steamed through Cockatoo onto Gembrook to reopen the line from Emerald Lake Park. The line between Upper Ferntree Gully and Gembrook was originally opened in December 1900 but a landslide forced its closure 53 years later. The line reached Menzies Creek in 1962, Emerald township in 1965 and Emerald Lake Park in 1975.
1999
Sassafras teenager Jesse Martin became the youngest person to sail solo around the world. The Ranges Trader became the Rangers Trader Mail when Yarra Valley Newspapers formed the Mail Newspaper Group.
2000
Upwey has a new home on the internet following the creation of the www.upwey.com.au website. Page administrator Roman Schatz said the website was all about communication and access – a new meeting place for residents, community groups and business owners who want to keep informed about their town.
2001
Her children already knew it, but now everyone knew that Maree Kilby was a very special mum. The Emerald mother of three – Ryan, 14, Gareth, 11 and Alana, 10 – was named joint winner of the 2001 National Bonnie Babes Foundation Mother of the Year award. Maree volunteered three days a week at the foundation's Wantirna headquarters and also became a qualified grief counselor.
2002
Olinda residents were stressed and angry after their attempt to save one of their village trees failed. Local Robert Stephen chained himself to the tree while residents demanded an independent arborist be brought in to reassess the decision to have it removed. But Yarra Ranges Shire workers cut it down the same day. Mr Stephen said he took the action to save what he believed to be one of the last remaining Mountain Ash trees in the area.
2003
Centenary Medal winner Genseric Parker explained that he had been named after an ancient historical figure. The life-long Gembrook resident had been keeping rainfall records for more than 50 years and had also written a book on the town's early history. He said his Oxford graduate father named his children after people from history and the original Genseric was the king of the Vandals and led the sacking of Rome in 406AD. "Not many are burdened with names like that," he smiled. "However, I've kept out of jail."
2004
Guests at the gala opening of the Cameo Theatre in Belgrave in March were among the first in Australia to see Mel Gibson's controversial film about the last 12 hours of the life of Jesus – The Passion of the Christ. About 250 people attended the black tie gala opening of the cinema, although several walked out, unable to sit through one of the scenes.
2005
Tourist icon Puffing Billy celebrated its half century in August, with a rousing rendition of Happy Birthday sung by a group of its young fans. The Puffing Billy Preservation Society celebrated its 50th birthday with a giant locomotive cake complete with 50 candles – cut by society member Chris Le Marshall and birthday girl Jemima – and the presentation of a specially commissioned painting of Puffing Billy locomotive 6A by artist Bill Caldwell.
2006
Tributes poured in for a Ferntree Gully man whose passion and influence transcended the confines of his wheelchair to touch hearts across the globe. An internet connection to the wider world meant the life of geology and emergency services enthusiast Wayne Johnston, who died at 33 after opting to forego further treatment in his failing kidneys, was celebrated from the Foothills to the far reaches of the US. Born with spina bifida and paralysed from the waist down, 'Wheelchair Wayne' volunteered for the Washington Geology Library and the Ferntree Gully Urban Fire Brigade.
2007
A woman who fell 75 metres down a ravine and spent a terrifying night on the side of the mountain returned to the scene a month later to thank her rescuers. Carey Husing of Tecoma fell on the Kyeema Track in Mt Dandenong and during a cold night wondered if she would survive the ordeal. But an early morning phone call to her brother sparked a three-hour rescue operation involving teams from the Monbulk, Kalorama, Olinda and Boronia CFA units.
2008
Tecoma residents fear a $7 million supermarket would destroy their town's history and character. More than 100 people flocked to the Burwood Highway site to vent their anger at the proposal, which they said would lead to the demolition of the popular Hippie Haven Music Café and the Saffron Cottage Indian restaurant. The businesses were housed in the historic Hazel Vale Dairy and the owner's former weatherboard home, built in the 1920s.
2009
Stories of survival, heroics and tragedy emerged from the devastating Black Saturday bushfires. Meg Cummings and her family made it out of Buxton in the nick of time. They were relocating to Monbulk on the day and left just hours before the blaze tore through their former home town. "We got out with just under two hours to spare," Meg told The Mail. "We kept changing the day we were going to move… we were planning on going Saturday afternoon. But I knew we needed to get out of there before it got too hot." Her partner Adam Schmidt, a CFA volunteer, went back to help fight the fires.
2010
The Mail joined the Shire of Yarra Ranges in a pre-state election push to get a better deal on public transport. The campaign called for a 'Fare Go For the Yarra Ranges'. Mayor Len Cox said one of the highest priorities for the area continued to be access to safer and more reliable public transport. He said more work needed to be done in improving train, bus and taxi services and creating better links between towns and suburbs to make it easier for residents go get around. "The ability to be able to use public transport to get to work, doctor's appointments, education and training, shops and social outings in fundamental to our people's quality of life," the mayor said. "Unfortunately, for many of our residents, the opportunity to do this is limited due to a lack of public transport, especially in our more outlying areas."
2011
A showdown loomed over plans to remove more than 15 trees on Monbulk's Main Street. Shoppers event threatened to tie themselves to the golden ash trees to stop a streetscape project proposed from Yarra Ranges Council and Monbulk and District Opportunity Working Group (MADCOW). "The trees are only 20 years old," one shopper said. "And they make for a beautiful, gold-leaved street."
2012
Tecoma residents were outraged and appalled after VCAT gave the green light to a 24-hour McDonald's restaurant to be built in town. About 500 locals gathered at the Burwood Highway site to voice their objection and "reclaim" Tecoma from McDonald's by planting a garden. "I felt absolutely gutted for our community," a spokesperson for the No Maccas in the Hills group said. "It's a very dark day for the hills and for the community voice."
2013
Two Hills green thumbs became the first to Aussies to take home a prestigious award from the famous Chelsea Flower Show in London. Show stalwart Wes Fleming from Fleming's Nursery in Monbulk finished his ninth show entry with a bang, taking the Best in Show Medal for The Trailfinders Australian Garden, produced with the help of Olinda sustainable landscaper Phillip Johnson and a team of 18 volunteers. Mr Fleming said they were over the moon at the achievement at a show considered the Olympics of the horticulture world.
2014
Experts say that what used to be a city drug is infiltrating rural areas at an unprecedented rate. A Turning Point report showed the use of ice – also known as crystal methamphetamine – had risen across the state. Local police say they could execute a warrant on clandestine labs every day of the week in the Yarra Ranges, Knox and Maroondah regions, not to mention the extra resources needed to deal with the increased drug-related crime.
2015
On the centenary of the Anzac landing, the efforts of Yarra Ranges Victoria Cross winner Captain George Ingram were celebrated in a book written by Mount Evelyn military historian Anthony McAleer. George Ingram was six when his family moved to Seville, where his father was a mail contractor and orchardist. He lost two brothers in the war and his sister died as an infant. Captain Ingram earned his VC for his actions on 5 October 1918 at Montbrehain, the AIF's last battle of the war. With his battalion under heavy fire, Captain Ingram rushed an enemy post and captured nine machine guns, killing 42 of the enemy in the process.
2016
Cockatoo teenager Oscar Arrowsmith received an Australian Bravery Award from Governor General Peter Cosgrove. Oscar was only 10 when the family dog attacked his mother Dana Lyall in their home. The German Shepherd had attacked her leg and Dana believes the outcome would have been much worse if Oscar didn't come to the rescue. "What Oscar did was truly amazing," she said. "If he didn't help out, I've got no doubt the dog would have killed me."
2017
Avonsleigh adventurer Brett Pooles was on the final leg of his Man With A Trolley fundraising journey for the National Breast Cancer Foundation. Brett packed up his custom-made trolley on Sunday 5 March and set off from his Avonsleigh home to walk to Echuca. Then he unpacked the trolley – a fold-up pink kayak – and started paddling towards his destination, Mildura. Brett was inspired to make the 1150 journey in loving memory of Cheryl Owens, the mother of a close friend who lost her life to breast cancer.
2018
Gembrook woman Cassandra Emary died while kayaking in Nepal. She worked as a raft guide and had recently competed in the World Rafting Championships in Argentina for the Australian team. The 23-year-old had worked at Gembrook restaurant The Independent before heading overseas. "Life so many of us, the river gave her life meaning," the Australian Women's Rafting Team posted on Facebook. "Float on sister. We miss you."