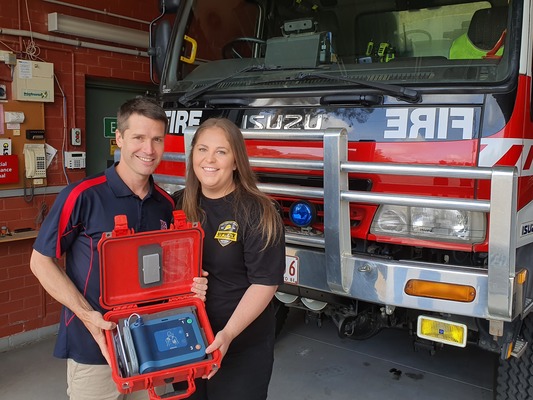 Jessica Jacobs from Upwey CFA and Luke Summerscales from Wonga Park CFA constantly train to help save lives and rescue people from life threatening situations.
But, they never expected to use that training to help save the life of one of their own.
In November, they were among units from Victoria's Country Fire Authority who were assisting New South Wales crews west of Grafton, when their divisional commander collapsed from a heart attack.
CFA volunteers rushed to 53-year-old John Kennedy's aid, including nurse and Upwey CFA member Jessica Jacobs and Wonga Park fire fighter Luke Summerscales.
Together they performed CPR on John for over 40 minutes, saving his life and buying him enough time to be flown to the Gold Coast, where he has since been recovering.
Speaking to the Mail Jess and Luke recalled the moment they saw their divisional commander collapse.
"He was working with us on the fire line and we were tasked with doing a back burn," Luke said.
"He was in a bit of smoke and I remember he raised his arm to motion to one of his colleagues and then he collapsed. Almost immediately, jess ran over to him."
As a nurse and the closest person to John, Jess immediately knew something was wrong.
"I saw him hit the ground and I just knew it all went to shit," Jess said.
"I went straight to him, taking my mask, helmet and goggles off. I checked for a pulse and didn't feel one, so yelled out we need to do a mayday and need a defib, then I started doing compressions."
"I didn't even think about it. I just had this gut feeling it wasn't good and went straight to check for the pulse."
Surrounded by fire, the duo maintained CPR for 40 minutes, reviving Mr Kennedy three times.
"We had live fire within metres," Jess said.
"Luke had a great idea of getting some breathing apparatus and just opening the cylinder near his face to get some clean air, because we were in such a dusty and smoky environment."
By the time Ambulance crews arrived, Mr Kennedy was conscious, but in the minutes leading up to their arrival crews from all around the fire ground had come together to assist Jess and Luke.
It was this contribution and camaraderie between organisation that Luke and Jess said was instrumental in saving Mr Kennedy's life.
"Because we called mayday, the Tasmania fire service, Parks, and everyone came together. It was certainly a team effort," Luke said.
"Our whole strike team, which was 1304 came together that day and whether their part was small or large they made a difference to John and a big difference to Jess and I."
On 13 December – two weeks after the incident – John Kennedy spoke with Luke and Jess for the first time since the incident, and while the reunion was emotional, the three plan to reunite in person at a later date.
"I just cannot thank you enough," Mr Kennedy said in an interview on Sunrise.
"I could have had a family without a father a son without a father, a wife without a husband."
"I love you guys."