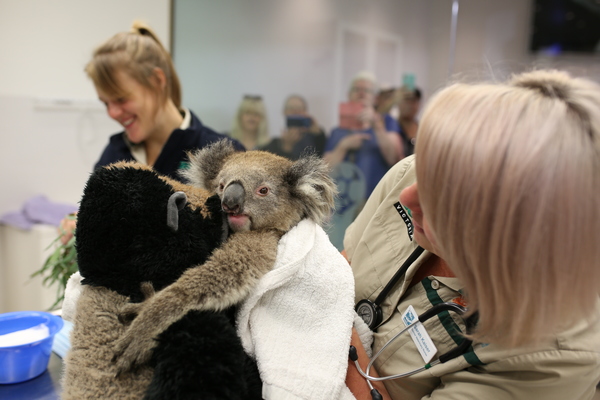 Stretched out on a surgical table in the veterinary ward at Healesville Sanctuary, Solo the koala is sedated so her wounds can be examined and treated.
When the koala awakens from her anaesthetic, her eyes tell a terrible story.
It's a story familiar to many Australians. Trapped in the burning bush in Mallacoota, her home was engulfed in flames.
Sixteen Koalas at the Sanctuary share a similar story, some worse than others.
"We've had 16 in total come to us for further burns treatment – the majority of them are burns victims," said Senior Vet Nurse Sarah Kaiser.
"We've had a few with eye issues from the radiant heat, and a few with respiratory issues from smoke"
"The worst we've seen is Spinach – he's had all four paws completely burnt and he's also got burns around his eyes, nose, mouth and ears. Some are third degree."
Across Australia, it is estimated that as many as two billion animals – including critically endangered species -have perished in the bushfires.
With three triage centres set up in Gippsland, Zoos Victoria staff are working tirelessly to provide specialist veterinary treatment, both on the frontline and at Healesville Sanctuary.
Bandages require changing, paws need treating and teams of vets are working around the clock to save as many as possible.
Though, Sarah explained that not all could always be saved.
"A lot of the time the burns will increase in severity for up to 10 days, so it is important that we do bandage changes every second day."
"It is a fine line, as they may come into the triage centre and you think they're okay, but toward the end of the 10 days you'll see signs. They'll stop eating, there behaviour changes and there burns are to severe to carry on. "
"Unfortunately, there is a high euthanasia rate."
The work isn't just attributed to the veterinary team, and all staff at the Sanctuary have been working to assist with the recovery effort.
Sarah said that five extra enclosures were built to cater to the demand.
"We've had really good support throughout Zoos Victoria and it's been an entire collaborative approach through the entire organisation."
"Works and horticulture built five extra enclosures and have been busy out getting fresh gum leaves and making all the perching, so it's been a massive job by all."
The widespread destruction has left rescuers with a tricky question – what to do with the animals once they have recovered?
For now, that issue is on the back burner, but Sarah remains hopeful that with donations and through the work of carers and Zoos Victoria, Koalas like Spinach and Solo will recover and eventually be returned to their homes.
On 23 January, The Andrews Labor Government a $17.5 million initial rescue package to assist in recovery efforts, but anyone can help Healesville Sanctuary's recovery efforts by simply donating to the Bushfire Emergency Wildlife Fund at https://donate.zoo.org.au/donation