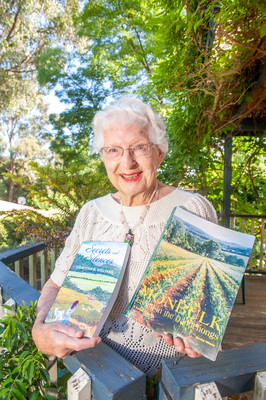 Monbulk author Dorothy Williams has recently penned a story that blends themes and characters from her own life into a fiction book. 
Secrets and Silences is about a 20-year-old girl called Aimee who belongs to an extended family before finding out she is actually adopted. 
"Probably every writer is writing out something of their own inner self or an old story," Ms Williams said.  
"I believe that fiction is really stirred up fact."
"Her identity is formed by belonging to this extended family and when somebody in chapter one, a woman, turns up on her doorstep and says 'I'm your mother', she discovers she's been adopted," Ms Williams explained. 
After the revelation comes to light, Aimee's life changes dramatically and she is forced to overcome numerous complications. 
"The real theme of the book is how do you re-invent your own personality when everything that is formerly relied on is flowing out the window," Ms Williams said. 
Ms Williams is an author and artist who has a range of published fiction and non fiction pieces. 
Local residents may recall her well-known book Monbulk: Living in the Dandenongs. 
Despite being a fiction book, certain aspects of Secrets and Silences reflect Ms Williams' life. 
She said that a tense relationship with her mother meant she grew up feeling as though she was adopted. 
"I was a Depression baby. I was born in 1931, the year of lowest birth rate, in other words nobody wanted a baby," she said. 
"My sister was already eight and a half (years old), if my mother had intended more children, she would have had more by then.
"Friends her age all had their children and I don't think she knew anybody with a child my age.
"I was a real impediment and I grew to feel as if I was a sort of boarder in the house." 
The theme of adoption was also reflected in Ms Williams' life with her two children being adopted and her working in an adoption agency as a teenager. 
Searching for identity is also something Ms Williams encountered throughout her lifetime, particularly during the 22 years she was stuck in an difficult marriage. 
But she seemingly found a sense of identity by moving to the Dandenong Ranges. 
Ms Williams grew up near the city before she moved to a block of land in Monbulk in 1982. 
She has lived in the area ever since, now residing in a house closer to Main Street. 
She said moving to the Dandenong Ranges was a life changing decision.
"Coming to Monbulk, buying the block changed my life," she said. 
"It's a very meditative experience to be in the forest."
Ms Williams' book Secrets and Silences is now available for purchase.
To find out more, visit www.dorothybwilliams.com.au.