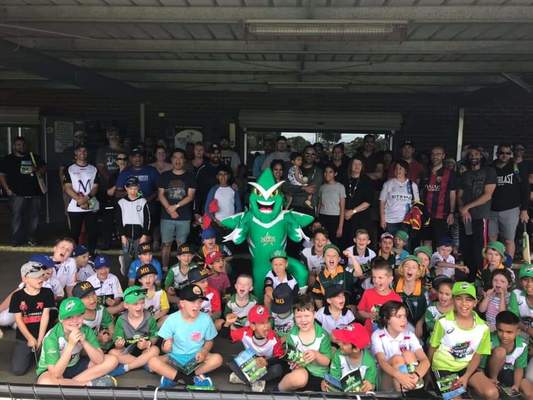 Australia's next generation of cricketing superstars continue to shine through as the Ferntree Gully District Cricket Association (FTGDCA) Woolworths Master Blasters Program rolls out across clubs in the Knox region.
The FTGDCA Woolworths Master Blasters is a fun, social and safe cricket program for girls and boys aged 7-10 to continue their cricketing journeys.
The program is a modified version of traditional cricket which encourages skill development against like-minded players within a friendly club environment.
The program forms a critical middle-step between the introductory Woolworths Junior Blasters program and FTGDCA Super 7s, ensuring players are well prepared to replicate their heroes, including local talent such as Australian all-rounder Glenn Maxwell and Victoria's Tess Flintoff who both commenced in FTGDCA junior skill development programs.
Woolworths Master Blasters runs between 10.30am and 11.30am on Sunday mornings until 15 March, with all equipment supplied and the first year registration fee subsidised by FTGDCA (normally $30).
Cricket Victoria's Club Officer for Outer East, Angus Gauld, said that the program falls within the Junior Cricket Strategy to promote the benefits of the game within the region.
"Woolworths Master Blasters is the next step from Woolworths Junior Blasters and is a great way to further develop cricket skills in a match-style format," he said.
"Each week, games are played at a different local venue that encourages children from all clubs to showcase their facilities.
"By FTGDCA embracing the Woolworths Master Blaster they are adding an essential step in the cricket pathway for children to be successful in each level that is appropriate to their cricket skill, ensuring the players and parents are enjoying every opportunity to play cricket."
The opening sessions of the program, having been held at Johnson Park Cricket Club and Knox Gardens Cricket Club, have seen strong numbers from clubs providing the program.
The next session of FTGDCA Master Blasters will be held at Knox Gardens Cricket Club (Argyle Way, Wantirna South) on 23 February. Registrations may be completed at
www.playcricket.com.au, selecting your local FTGDCA club that offers a team in the competition.
Eildon Park Cricket Club
Johnson Park Cricket Club
Knox Gardens Cricket Club
Mazenod Cricket Club
Mountain Gate Cricket Club
St Johns Tecoma Cricket Club
The Basin Cricket Club
Future Sessions
Sunday 23 February – Mountain Gate Cricket Club, Ashton Road, Ferntree Gully
Sunday 1 March – Eildon Park Cricket Club, Eildon Parade, Rowville
Sunday 15 March – The Basin Cricket Club, Miller Road, The Basin