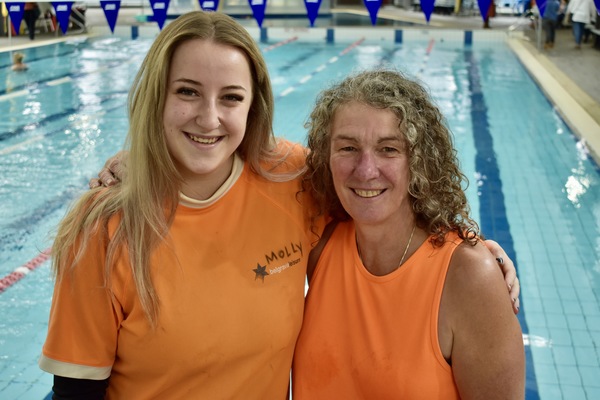 Two swim teachers from Monbulk Aquatic Centre are hoping to break new ground as they prepare to conduct swim lessons on Lord Howe Island.
Sally Pizzey and Molly Smith will volunteer their time to run a two week swim program on the island, commencing 30 March.
The trip was initiated after the pair found out how limited swimming opportunities were for residents on the island, due to having a small population in a remote location.
Sally said there is no swimming pool on the island, only a lagoon and beach to learn to swim.
She said this meant properly organised lessons are few and far between due to the costs associated in getting qualified instructors on the island.
"I've been teaching for 40 years and it never occurred to me that there's an island out there that doesn't have a swimming pool and is surrounded by water," Sally said.
"Half of them can't swim."
The pair first realised how bad the situation was, when some students from Lord Howe Island attended the Monbulk Aquatic Centre.
"When I saw the students come over from there, they were quite a bit older than some of the others in that class and you could see that their swimming wasn't very strong at all," Molly explained.
"You could tell their parents actually needed help."
Sally said it took only a matter of seconds before the pair acknowledged they had to do something.
"It literally happened straight away. We were working side by side in the lanes teaching these kids and while we were teaching I turned to Molly and said 'do you want to go to Lord Howe Island and teach these kids'?"
"Within 20 seconds she said yes. It was just an instant decision that we would do it."
But it soon dawned on them that the trip wasn't going to be as easy as initially thought.
"We sat down and worked out how expensive it was and then we realised why people don't go there to do it because it is $6000 for us both to go there," Sally said.
The money hasn't discouraged them from going, but Sally and Molly hope their trip can raise awareness and inspire action towards the need for swimming education in these remote island locations.
They said islands such as Norfolk Island, Christmas Island and the Cocos Keeling Islands are all in the same boat.
"They don't have swim lessons there and they can't afford people to come over, they don't have people on the island in the community that can teach swimming," Molly said.
"It would be awesome to get something up and running, a yearly thing."
Sally added that it would be great to see more government funding towards swimming education in these regions.
"Here, schools get that many grants for swimming lessons, students get swimming lessons so cheap," she said.
"Whereas these islands, especially Lord Howe Island don't get that at all, no grants or anything."
Molly and Sally are now trying to raise funds to cover their travel costs. Raffle tickets can be purchased at Monbulk Aquatic Centre or from Kallista General Store.
Kallista General Store will also run a wine tasting afternoon on 13 March from 4pm-7pm to raise funds.
For more information, contact the Monbulk Aquatic Centre on 9756 8000.