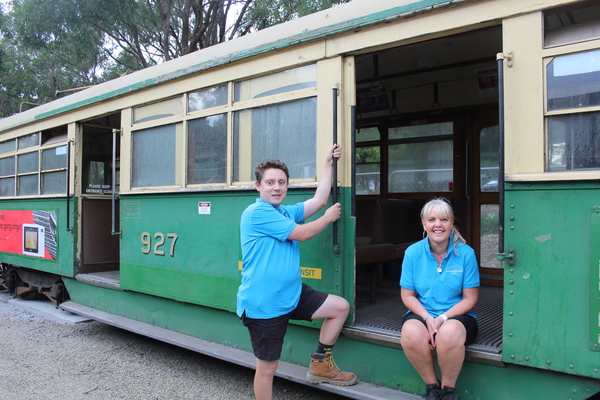 An iconic 1947 W-Class tram has made its final stop in Mount Evelyn, bringing a piece of Melbourne's rich public transport history home to the Yarra Valley.
The green and yellow carriages – complete with their high wooden steps, cosy brown leather interior and overhead advertisements – were the workhorse of Melbourne's tram network for over 60 years. While tram 927 historically rode the city tracks around St Kilda, it has officially come to a rest at its new home at Mount Evelyn Garden Centre.
With the help of two crane trucks, the slice of history took its place at the nursery earlier this month and is set to enjoy retirement as part of a new outdoor eatery that is currently under construction. As a condition of the tender, the tram will remain in its current well-travelled condition and provide eatery seating and a historical experience to visitors.
Manager of Mount Evelyn Garden Centre Julie Melbourne said that when owners Barry and Rebecca Humpris saw tenders advertised, the opportunity to bring a rare attraction to their nursery and Mount Evelyn was something they could not pass up.
"The purpose was to bring a part of Melbourne to the Yarra Valley," Ms Melbourne said.
"It will be transformed in coming months to an outdoor eatery catering for all.
"It completes the experience for our customers, making it a great destination to visit," she said.
VicTrack opened expressions of interest for retired trams in mid-2018, offering the public the chance to give a new home to over 130 trams that had been retired from the network over the last 30 years and stored away in Newport workshops.
According to VicTrack, over 1,500 applications were received, with the selection panel giving preference to applicants who could demonstrate their tram would be accessible to the public, benefit the community or promote Melbourne in some way.
Member for Eastern Victoria Harriet Shing said the historic tram will provide a unique setting to enjoy a coffee once restored.
"This historic W-Class will become a new landmark for locals and visitors at the Mount Evelyn Garden Centre," Ms Shing said.