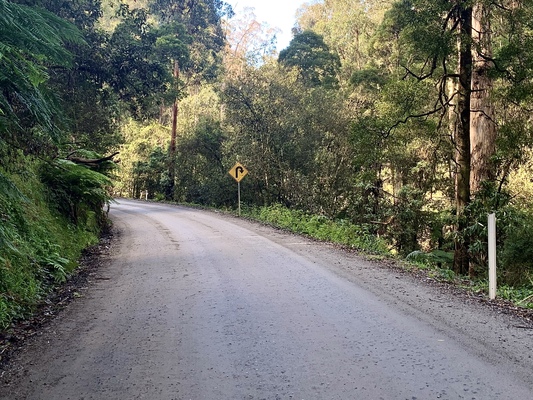 When Harry Pestell heard that another person had died in a car crash on Bessie Creek Road in Gembrook, he could not sit back and wait for another victim.
In August of 2018, the Officer man lost his best friend, 19-year-old Jason Jayawardena, in a car accident on the windy dirt road.
The most recent fatality occurred on Wednesday 27 May when a man lost control of his vehicle on the road's sharpest bend, crashing down an embankment.
Mr Pestell decided enough was enough, and started an online petition in hopes to prevent more accidents from occurring along the Gembrook and Nar Nar Goon North road.
"I feel that something needs to be done about the speed limit – it is too high, especially at night time and when the weather conditions are poor, as well as wildlife presence," he said.
"I believe the speed limit should be lowered to 80km/h since this road is unlit, has a large wildlife presence and has blind corners.
"I drive this road at least once a week to go and see the site where I lost my best friend and I have had multiple bad experiences driving on it avoiding wildlife such as wombats and kangaroos, even as recently as last night."
While Cardinia Shire Council has secured funding to have the road sealed within the next two years, Mr Pestell believes that alone will not solve the issue at hand.
Just one day after launching the petition on Change.org, more than 50 people jumped on board by signing it in support of a speed limit reduction.
Officer resident and motorist, Blake Miller, who was also best mates with Jason Jayawardena, strongly supports the idea of having the speed limit reduced.
"That road is too fast unless it is perfect driving conditions – it is unsafe! I think the speed limit needs to be lowered to at least 80 or 70km/h," Mr Miller said.
"I drive the road quite often as my friend's mum lives down there and we go there all the time for dinner and we also go to the tree where we have photos of Jason where he crashed. There are always cars going way too fast.
"The main reason we think the road's speed limit should be lowered is to avoid any other lives being taken on that road. I drive at 80km/h regardless of the speed limit as 80km/h is more of a comfortable speed to go on a bumpy road like that."
To sign the petition: https://www.change.org/p/vic-roads-lower-the-speed-limit-to-80-on-bessie-creek-road?recruiter=898371759&utm_source=share_petition&utm_medium=facebook&utm_campaign=psf_combo_share_initial&utm_term=tap_basic_share&recruited_by_id=fe2a9150-b23a-11e8-8141-efa92c39bbc1&utm_content=fht-22419571-en-au%3Av10