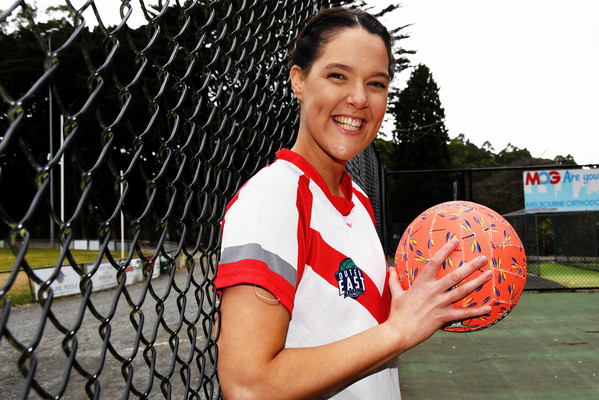 Olinda Ferny Creek Football Netball Club's Ashlee Howard has quite the netball story.
From playing for Victoria's most prestigious team, the Melbourne Vixens, to a Multiple Sclerosis (MS) diagnosis at age 28 threatening her chances of ever playing again.
Growing up in a netball family meant Ashlee was exposed to the game at a young age. She began playing locally at age seven, before moving her way up the representative system.
In Grade 6, Ashlee was selected in the Victorian team for the first time and after that she never looked back, being selected again in Under 17s, 19s and 21s.
She also played in the Victorian Netball League for Boroondara Express and was then picked up by the Melbourne Vixens – known as Melbourne Kestrels at the time – at age 18.
"The last year of that Commonwealth Bank Trophy I was in the Kestrels playing with them and then it merged into the ANZ Championship so the Melbourne Vixens was formed," Ashlee said.
"It was a big year in 2009 because the Vixens got into the grand final and won which was awesome just to be part of it.
"I was on the bench when Sharelle McMahon was in front of me so she was playing, fair enough."
Despite 2009 being one of the best years in Ashlee's career, it ended on a sour note.
"I was in the Aussie Under 21 team and it was World Youth Cup year…We were off to the Cook Islands," Ashlee recalled.
"I was playing in the semi final and within the first three minutes of that I went down with my ACL, so I couldn't play the rest of the tournament."
It wasn't until 2010 that Ashlee could return to the court. She did a stint in Perth playing with the West Coast Fever before returning home to the Vixens for her final season in 2012.
But returning from an ACL injury wasn't the biggest challenge Ashlee has faced in her netball journey.
After finishing with the Vixens, Ashlee moved up to OFC Football Netball Club.
It was during a grand final against Wandin in 2016 that her life changed forever.
"It was neck and neck the whole game and we ended up losing the grand final by about one or two goals," Ashlee said.
"After the game I said to mum, 'my legs are really heavy and it was a real effort to play the 60 minutes of that game'."
Ashlee returned to the club the next day for end of season celebrations, but she said her body still didn't feel right.
"My right leg was a bit numb and I thought something's weird, so I kept stretching and rolling," she said.
"It was numbness in my right leg and then it had come to the bottom of my left leg as well.
"Then two or three days after the grand final pretty much from my hips down was numb."
Two months later, Ashlee was diagnosed with relapsing-remitting MS.
"Progressive is where you are progressively getting worse and worse throughout your lifespan, relapsing is when you have a few relapses throughout your lifetime but hopefully you get out of that," Ashlee explained.
"I've only had one big relapse and that was in 2016 but it lasted a while, it probably lasted about three or four months."
After the worst of her symptoms calmed, Ashlee began rehab – determined to get back onto the netball court as soon as possible.
As much as the training side of things and building up fitness was extremely challenging, Ashlee said it was a battle with mental health that was her biggest roadblock.
"When someone's in a relapse it's more about their mental health rather than anything because you're quite down about yourself," she said.
"That's important with people knowing about MS is yes, it's physical but it's also a lot inside their head. They can't really comprehend sometimes what's going on with their body.
"It's taken a long time to get to a place where it's now ok and I know what's happening with my body."
Ashlee said the club culture at OFC Football and Netball Club was hugely influential in helping her get back on track.
"When I came back after dealing with this MS side of things my mental health was shocking and I'd come through the gates quite visibly sad, but I made myself come," she said.
"The whole community was so supportive and came up and gave me a hug. You just know everyone's there for each other and it's really important, this community, for the mental health side of things."
Ashlee, who is now a personal trainer and netball coach, said her fitness and mental health is currently in a great place.
Despite Covid-19 restrictions, the club has still been running training sessions online every Thursday night, which Ashlee said had been a huge success.
Ashlee will release her first fitness Ebook in July, which is an at home workout program with no equipment needed. More information can be found by visiting her social media page Ashlee Howard Bodyfit.
She also welcomed the arrival of her first baby earlier this year in January.