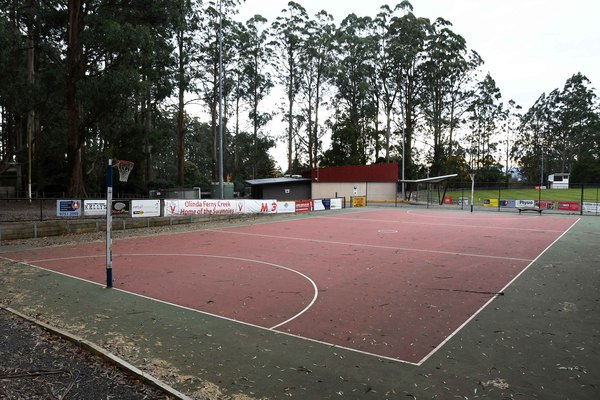 An attempt to reverse a decision that approved tree removal at the Olinda Recreation Reserve has been unsuccessful.
At the Yarra Ranges Council meeting on 5 April, councillors approved a Planning Permit that sought to remove 11 trees, including two large Mountain Ash, to make way for a new netball court at the reserve.
At the 26 May Council meeting, Cr Cox put forward a rescission motion to have this Planning Permit approval revoked, however it was not carried.
Cr Cox said it wasn't common to see a rescission motion, however he believed it was necessary in this case.
"Rescission motions don't occur very often, in fact, I think this is the first one that this current Council has had, that's in three-and-a-half years," he said.
"But they are something that councillors can use, and hopefully only carefully, when they believe councillors have made a mistake.
"Nobody likes rescission motions and I apologise for moving it last week but it is something that I believe Council has got wrong and that Council needs to be given a chance to reverse the decision."
Carolyn Ebdon, who also spoke at the initial Council meeting, spoke on behalf of Save the Dandenongs League in support of the rescission motion.
"The Save the Dandenongs League is very supportive of improvements to sporting facilities for the Olinda sporting community. However, we consider the plans for an extra netball court adjacent to the Olinda Mechanics Institute Hall should be put on hold until a better location can be found," Ms Ebdon said.
"We would like to see the trees and other important vegetation surrounding the Olinda Mechanics Institute Hall saved.
"The best option we think would be to construct the new courts in an open area away from all the tall trees, such as on the golf course near the new oval, and this would provide immense public benefit.
"There would be more room there for other facilities or clubrooms to be added in the future."
Olinda Ferny Creek Football Netball Club member Georgia Martin spoke against the rescission motion.
Ms Martin has lived in Olinda her entire life and has played netball for the club for over eight years.
She said the trees should be removed to improve safety and encourage equal opportunity.
"Women's sport is just as important as men's sport, the netball is just as important to the club's success as the football and it's a false economy to suggest otherwise," she said.
"It is ridiculous that we have to fight for something that men's teams are just given – safety, facilities and respect.
"We are also one of the few grounds where you only need to turn your body to watch both sports. I strongly believe that the proximity of the courts to the ground is what fosters such a wonderful, inclusive culture.
"We don't want our club culture jeopardized due to the distance between the rooms, football ground and our court being at a secondary location."
Ultimately, the rescission motion was voted with five votes against and four votes in favour, meaning the Planning Permit approval will go ahead.
Hilltop Recreation Association president Ben Selby-Hele said that the two new courts and cricket nets would provide safe, high quality spaces for players to train and play.
"Our netballers and cricketers absolutely deserve the best and having new courts and nets located close to our clubrooms and existing facilities, will provide just that," he said.
"We're delighted that on game days we can all enjoy our teams – women and men – playing at the same place, same time and being supported equally."
Mr Selby-Hele said the association had raised $2000 towards planting more trees in the Olinda Precinct.
"We, like the majority of people that live in the hills, love the natural environment and the benefits of living amongst a tall forest," he said.
"These two trees have made our netball court and cricket nets unsafe and, at times, unusable due to falling limbs, bark and leaves.
"We respect and value trees but we always have to be mindful of player and spectator safety, especially when we've had tree branches drop on to playing facilities with no notice."