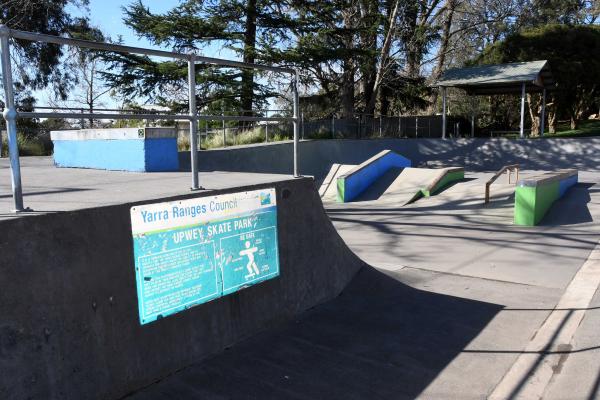 A top of the range sports pavilion, a skatepark upgrade and an eco-friendly energy project are coming to the Yarra Ranges.
The State Government's Growing Suburbs Fund will invest $2.5 million towards the Upwey Skatepark, the Kimberley Recreation Reserve in Chirnside Park and a new waste-to-energy project.
A more challenging and expansive space for all ability levels will be created at the Upwey skatepark with the influx of $150,000 towards its redevelopment.
"The Upwey skatepark is already a popular facility and this upgrade will ensure that skaters of all abilities will be able to have a go," Monbulk MP James Merlino said.
The funding will also see $1.85 million go towards the redevelopment and expansion of the sports pavilion at Kimberley Recreation Reserve in Chirnside Park. This development will include female-friendly changing rooms for local football, netball and cricket clubs as well as new community space.
Eastern Victoria MP Harriet Shing said the upgraded pavilion will be a valued addition to the region.
"It's great that the Growing Suburbs Fund can support such varied and important projects – a top-quality pavilion will be great for sports in Chirnside Park," she said.
Yarra Ranges Shire Council will also receive $500,000 for a new waste-to-energy project at the Coldstream Transfer Station.
The project will aim to produce more than 870 tonnes of sustainable fuel a year, reduce bushfire risk through disposal of potential woody fuel and improve air quality.
Yarra Ranges Mayor Richard Higgins said the Growing Suburbs Funding would turn the three projects from ideas into reality.
"We know that the community is looking forward to the time when it's safe to ease restrictions, when playgrounds and skateparks reopen and, eventually, when community sport can resume," he said.
"The Upwey Skatepark Redesign and the pavilion project at Kimberley Reserve will be fantastic projects for them to look forward to, reminding them that things will get back to normal one day.
"The waste-to-energy project in Coldstream will be vitally-important for reducing the amount of waste going to landfill, while also generating energy to reduce our running costs and our reliance on the grid.
"We can't wait to share more details about these projects with the community, and for the day when we can share the finished results in person."
A full list of the successful projects under the Growing Suburbs Fund can be found at localgovernment.vic.gov.au/grants/growing-suburbs-fund.