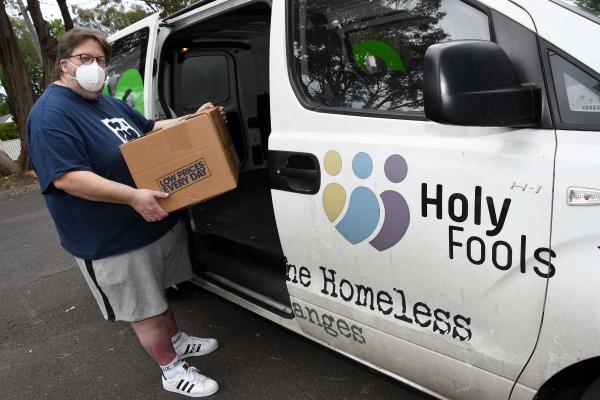 The CEO of a charity that supports homeless people has warned that Covid-19 could exacerbate what is already a serious problem in the Yarra Ranges.
Holy Fools CEO Neal Taylor founded the organisation and has been involved since its inception, over 10 years ago.
Mr Taylor said numerous people would be impacted when the Federal Government's JobSeeker coronavirus supplement, currently $250, ends on 31 December.
"There is going to be a mass influx of people who are going to hit the streets or going to need help," he said.
Mr Taylor said Covid-19 had already worsened some of the issues that influenced homelessness in the region.
"We've always had an issue in the Yarra Ranges with family breakdown and family issues brought about by financial stress, employment stress and illness. It's also brought about by drugs and alcohol and family violence," he said.
"The breakdown of families has been exaggerated and exacerbated by Covid-19 and the high level of unemployment.
"We've had a lot of people in isolation and had a lot more family violence."
Earlier this year, the State Government implemented a Homelessness Hotels Emergency Response.
This saw homeless Victorians sheltered in hotels to help protect them from Covid-19 outbreaks.
"It tells us that the Government could do something if it really wanted to," Mr Taylor said.
"When they feel they have to do something they can do it."
He added that the Federal Government was also lacking in its support, with the latest budget being "abysmal" when it came to supporting affordable housing.
But Mr Taylor's concerns towards the severity of homelessness in the Yarra Ranges is not something new, with his organisation advocating for more support for over a decade.
"We feel like we've been talking to no one because it seems that there are lots of things that could be done to help," he said.
"If we do not start planning for some affordable housing in the Yarra Ranges and start to recognise that we do have a homeless problem, things are going to get out of control.
"For so long we've ignored and lived in ignorance that there's a problem here. Because we don't have people living on the streets like in the city, people don't think it happens here.
"We have always had a problem but it's starting to get worse. In the past 10 years we've seen a dramatic increase in homelessness."
The services Holy Fools provides have also been "dramatically" impacted by the pandemic.
"The education side of things has gone from talking in schools to just providing information online," Mr Taylor said.
"Our outreach services have changed quite a bit. Our outreach lunch every Wednesday, called Street Angels, we've had to pull back on that and only offer that as delivery."
But Mr Taylor thanked the local community for their help, particularly over the past six months.
"Groups like ourselves have really had a lot of the community support us during this pandemic, we've had quite a lot of food donations and clothing," he said.
"It's been fantastic. But in the same token, people need to realise our load has obviously increased as well and we are going to need financial help."
To find out more about Holy Fools, visit www.holyfools.org.au.