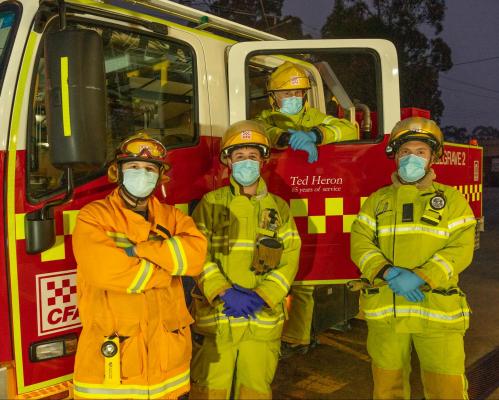 For almost a century Belgrave CFA has been serving its local community, through events such as Ash Wednesday, Black Saturday, a global pandemic and much more.
In the lead-up to the brigade's 100th anniversary in 2023, members are looking to overhaul the Belgrave CFA's physical collection of memorabilia, and establish an online collection.
Brigade member James Bakker said the community's help was needed to make this happen.
"This is where community members can help with a unique opportunity to share their memories and contribute to the collection and maintenance of local history," he said.
"We know there is a lot out there just hidden away. With many of us stuck at home, we have a fantastic opportunity to dust out the old photo albums and scramble through the attic.
"Maybe grandad's old chest has some hidden treasures that need to see the light of day."
Mr Bakker said they were seeking anything that contributes to capturing the brigade's and community's history. That includes photos, historical records, memorabilia, memories, anecdotes (the funnier the better) and stories – written or oral.
The Belgrave Volunteer Fire Brigade is one of the state's busiest all-volunteer brigades and was established in 1923.
For its 75th anniversary, the brigade produced a book called Our History: March 1923 to June 2002
This collection described events such as the pre-electronic age installation of truck mounted base radios, Ash Wednesday, the annual Royal Children's Hospital wheelbarrow push, formation of the junior fire brigade and the Ladies Auxiliary.
But with a lot happening at the brigade in the past 25 years, research is now being done to produce another historical record.
It will include events such as Black Saturday, last summer's bushfire season, Covid-19 and even recent events such as the trail damage from the storms in August.
"The brigade's membership, capabilities, responsibilities and contribution to the community continue to evolve," Mr Bakker said.
"Additionally, the local community has experienced many significant physical and cultural changes that sees Belgrave continue to evolve as a gateway to the hills."
Planning is underway to organise a series of year-long events and activities to celebrate the brigade's 100-year milestone.
"The brigade is keen to involve the wider community including past members, their families, local interest and business groups, schools and community members," Mr Bakker said.
Submissions can be sent to belgravebrigade100@gmail.com or contact James on
0466 249409 to arrange a contact-free drop off or pick up.
All contributions will be catalogued to ensure safe return and accredited appropriately, if published.