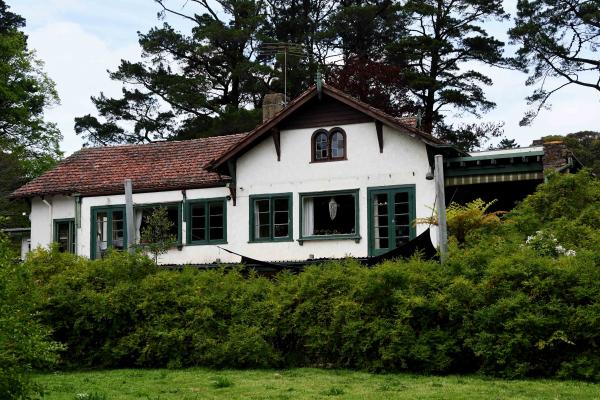 A ray of sunlight has filtered through the coronavirus haze directly into Emerald.
Marvellous news that there will be a family of permanent caretakers moving into and resurrecting the clubhouse of the former Emerald Country Club. It has been a great sadness to all who have seen it being brutally vandalised since it closed three years ago.
Locals taking their daily hour of exercise over the lush fairways have been delighted to see constant improvements over the period of the recent lockdown. The Rakei family have been working long and hard during this time to make it not just habitable but restored.
The historic clubhouse, built in an English Arts and Crafts style includes locally sourced pink stone and was completed in 1930. The architects Cowper, Murphy and Appleford built many landmark Melbourne buildings including the Dendy Theatre in Brighton, The Regent Theatre on Collins St and the interior of the Palace Theatre on Bourke Street.
The vision of Bert S Stillwell and Harry W Treganowan, The Emerald Country Club was established in 1923 and is sited on the northern portion of the original Nobelius nursery. Membership was originally only open to people who purchased land on the surrounding estate of Elm Crescent, Poplar Crescent, Sycamore Avenue, Oak Avenue, Nobelius Street and Lakeside Drive.
Cottages built on the estate needed to be approved to ensure that each had some distinctive quality of planning and building.
The current owner businessman Alex Wee, has decided that the only way to protect the building is to have permanent on-site caretakers. When Mr Wee and course management failed to come to an agreement in 2017, the 18 hole, 7 par challenging course was unfortunately closed to the chagrin of the local community.
Since the closure vandalism, fires, campers and questionable gatherings have all caused serious damage to the buildings.
The new residents are very happy for the wider community to continue enjoying walks on this beautiful expanse. This of course must happen with respect for their position as a family living with a right to peace and privacy. They request that walkers keep a respectful distance from the household and endeavour to keep off leash dog walking at a courteous stretch from small children playing in the garden by the house. Already, a brand new child's bicycle was stolen from inside the building.
The family must be appreciated for the protection they are affording this important building for the community at large. So let us, as a community, support them and their endeavours.