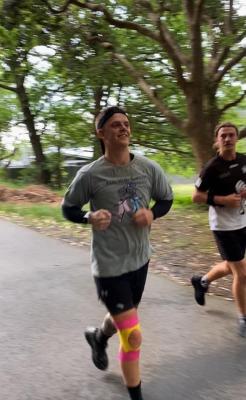 A Mt Evelyn man has raised $9,278.64 for the Kids with Cancer Foundation, successfully completing an 80km return marathon along the Warburton Trail on the weekend.
Beginning in Lilydale, Dylan Taylor ran to Warburton and back on Saturday 28 November with his mates, family and community members cheering him on as he endured the "hardest run" of his life.
"It was just awesome. The whole day the vibe was just amazing. I had a bit of a support crew, at the end there were probably about 30-40 people," he said.
"I had random people on the trail cheering me on, a few cyclists said you're doing a great effort, keep going.
Mr Taylor was joined on parts of the run by members of his proud support crew, with some running and riding alongside him for up to 10kms to show their encouragement.
When the Star Mail caught up with Mr Taylor in late October this year, he had raised just over $3500 for the Kids with Cancer Foundation.
Fast forward a month, he said it is "overwhelming" to look back on the day and think about how much he raised.
"With the whole Covid thing, all I was planning to do was raise $1,000. I got on the radio and things really kicked off," he said.
"It's awesome to look back on such an amazing day and to have been able to raise as much as we did, I definitely won't forget it."
Mr Taylor said he has his family and friends to thank, as well as his workmates – with a job-site he was working on generously raising $2,500 towards his cause.
The marathon was inspired when Mr Taylor found himself stuck indoors during Covid-lockdown.
"I had 10 weeks off work due to Covid and basically, I'm an outdoors sort of person and one day I woke up and wanted a challenge to keep me fit and outdoors so I thought let's do a charity run," he said.
"I did a bit of research and spoke with Kids with Cancer and from the get-go it was a no-brainer because they explain exactly where the money goes and what it does – you can see how it helps the hospitals or if it's used for research.
Mr Taylor said the Manager from Kids with Cancer came out to support him on Saturday and always contacted him during lockdown to see how he was coping.
The entire run took Mr Taylor just on 10 hours to complete.
"I've ran marathons, but only 50kms so to go to 80 (kms) was a big challenge, the Warburton Trail is pretty hilly in parts, but when you do something for such an amazing charity lots of emotions come through," he said.
Mr Taylor was overcome with emotion when he finally crossed the finish line with his friends and family cheering him on.
"I shed a tear that's for sure, I couldn't hold it."
"All my marathons have been charity runs and that's what gets me through. I honestly reckon if I was to do a marathon that wasn't for a charity I wouldn't (finish)," he said.