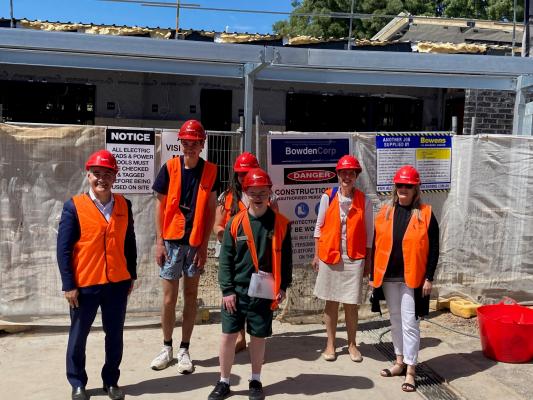 Yarra Ranges Special Development School in Mount Evelyn will soon benefit from a further $8.92 million in upgrades allocated as part of the 2021/21 Victorian Budget.
The funding will allow the school to deliver the last stage of its Master Plan, which will include construction of a senior years learning building and an additional administration space.
This announcement brings the total investment in transforming the school to $22.97 million since 2017.
Member for Monbulk James Merlino attended the school on Friday 27 November where he made the funding announcement at a small assembly.
Principal at Yarra Ranges Special Development School Janet Taylor described the planned upgrades are "a dream come true".
"Our art and media program will have a proper art studio. The hospitality program which provides work skills is just a converted portable at the moment, so to have a purpose-built kitchen and dining room will be amazing," Ms Taylor said.
Since 2017, the school has received an administration upgrade, a junior school upgrade and is now looking forward to completing the project with a new senior school and administration building.
"There's no comparison. We had these really old relocatables that weren't purpose built and now these new spaces we've worked with the architect on are designed to meet our children's learning needs," Ms Taylor said.
During his visit, Mr Merlino toured Stage Two of the works, which included four general purpose classrooms, a kitchen, laundry, bathrooms, an office space, a sick bay and outdoor areas. It is expected to open in early 2021.
Construction of Stage Three is expected to be complete in 2022.