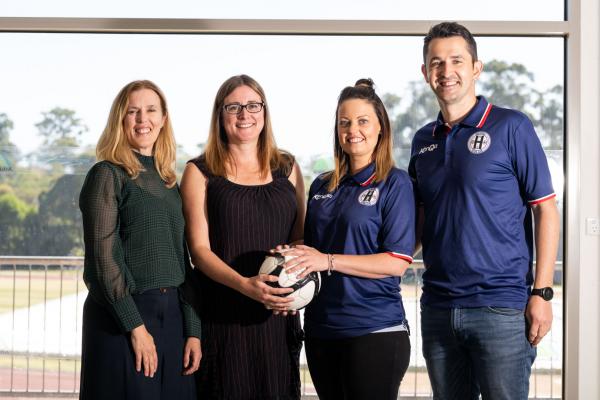 Healesville Soccer Club and Healesville Futsal Club are Yarra Ranges Council's Community Group of the Year.
The clubs were recognised for their joint efforts in creating a Covid-safe competition once restrictions allowed last year, and for making players and family members feel valued, supported and included at their clubs.
Healesville Futsal Club owner and coach Steven Campbell said players were unable to play for six months last year, with the club turning to zoom and one-on-one sessions in line with Covid restrictions.
"We put out a program where kids could perform against themselves and get up to different levels in terms of certain skills. I think we drove parents mad in terms of submitting videos every week, but the community and the communication was fantastic across the board," Mr Campbell said.
Healesville Futsal Club joined forces with Healesville Soccer Club to create an outdoor competition while indoor restrictions remained stringent, with the event receiving significantly positive feedback from parents and players who got to experience a small return to normality.
Vice President of Healesville Outdoor Soccer Club Suzanne Tyzack said both clubs "really wanted to do something but were not able to because indoor restrictions were pretty tight".
"We talked to each other and said, why don't we just do it outdoors. We (Healesville Soccer Club) have the facilities and the canteen, and Steven and Courtney from Healesville Futsal Club are really good at putting events together," Ms Tyzack said.
The event was a success, with Mr Campbell saying there were about 200 kids and their families present for the games.
"There was a real good buzz about the air. All in all it was about clubs working together for the greater benefit in terms of kids getting back into the game," he said.
When asked how it feels to have been recognised by council, Ms Tyzack described it as a "surprise", while Mr Campbell said he was "absolutely delighted".
"It's nice, like anything you're just going about your day to day business not really thinking about it, just trying to put a program together for everybody, so to get recognised out of the blue was fantastic," Mr Campbell said.