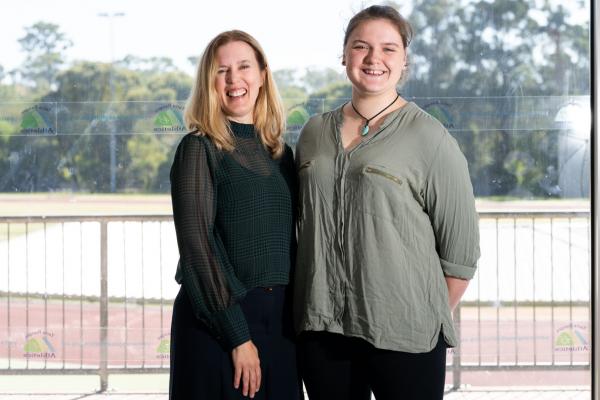 Yarra Ranges Council's Young Citizen of the Year is 17-year-old Upper Yarra resident, Ashlee Shotter.
Ms Shotter devotes her time to numerous initiatives, including at her local netball club, where she coaches under 11's and co-ordinates fundraising activities. She also volunteers at a local aged care facility, has served as President of the Student Representative Council and was College Captain at Upper Yarra Secondary College.
Just when you thought that was impressive for a 17-year-old, Ms Shotter was also involved in the CAN for Cambodia project, where she raised money to benefit victims of Cambodian landmines, served as the Cambodian Captain and Head of Fundraising, and took on the responsibility of choosing places students would visit during their trip to Cambodia. The Cambodia trip involved humanitarian work, visiting schools, reading to children and conducting work in the villages.
Upon hearing that she had been named as Young Citizen of the Year, Ms Shotter said it was "unexpected, somewhat shocking but exciting that I've been recognised and that what I've done meant something to other people".
Ms Shotter said she began getting involved in the community around grade six.
"I had coaches for netball who I saw help us develop as people. I did cubs and scouts and that taught me how to be a leader. I saw how fun it is to lead and now try to continue that spectrum," Ms Shotter said.
"I try to take on roles that can pass on my knowledge that I've learnt to some of the younger people in the Valley, and hopefully they can find the experiences I did and continue or find their own path," she said.
When Covid-19 put a halt on Ms Shotter's volunteering, she still found a way to uplift others, creating origami cranes and placing them in letterboxes around town alongside a funny quote. Ms Shotter's mum saw on Facebook that a member of the community had donated money to a charity, and wrote that they were inspired by the kindness they received in their letterbox, not knowing that it was from Ashlee.
"She did it without any recognition, she is just amazing. She worked to be able to get to Cambodia, it just makes you want to cry because you are so proud of all the kids," her mum said.
Ms Shotter also won the Upper Yarra Community Enterprise's Ian De le Rue Youth Initiative Award last year and the Australian Defence Force's Long Tan Award. She plans to go back to Cambodia to teach and continue humanitarian works in the future.
She has recently been accepted into a nursing course, telling the Star Mail she "wanted to continue on the path of helping others".