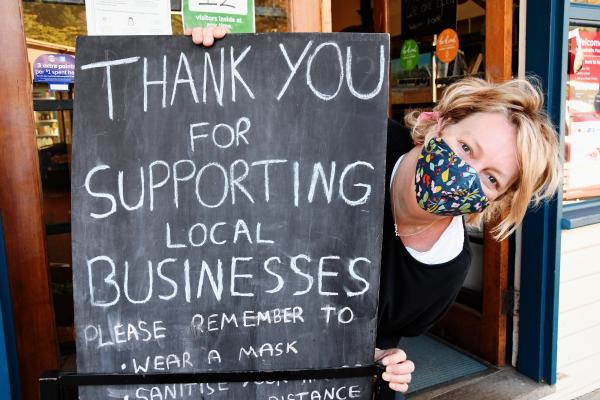 With usually bustling Hills streets currently dead still, finding a positive during Covid-19 lockdowns doesn't come easy.
But in Kallista, a central community hub is helping both community and business see each other through.
The Kallista General Store and Cellars is fortunate enough to still be open for the post office, with take-away wine, meals and coffee going some way towards alleviating the blow from lost tourist and after work customers.
Owner Josephine Horn said the General Store and Cellars has been "very fortunate" to still be able to operate, but also provide locals with their daily dose of positivity as they pass-by.
"The best thing is our community. We just feel so fortunate to be up here and people who come are happy to be here, they are happy we are open and it's just our responsibility to make their experience as positive as possible," Ms Horn said.
"We know that some people are coming in because we are their daily stop while they are on their allowed exercise so they are stopping in for a chat," Ms Horn said.
The social interaction and a much needed laugh is just as important as the daily exercise, according to Ms Horn, who has set up a suitcase full of toys and magazines for local kids to help themselves to when out in the street.
"I think it's really important and we are trying to make sure we are as positive as we can be because we are aware it might be the only outing people are getting," she said.
While the General Store is a hub of positivity, the rest of the quaint village has a "very eerie feel to it", with other small businesses forced to close or reduce hours.
"I really feel deeply for all my fellow traders, out of the whole town it's only us and the pizza place that can open," Ms Horn said.
"It's got a really eerie feeling to it. We've lost the tourist traffic, we normally have the school, but what's hit us the most is people not coming in after work, because people aren't going to work," she said.
While an extended lockdown would take its toll, Ms Horn said the general consensus amongst the community was "OK".
"There was a certain point it got to last time where people were just so depressed. People seem OK so far, the general feeling we're getting is not confident, but OK," she said.