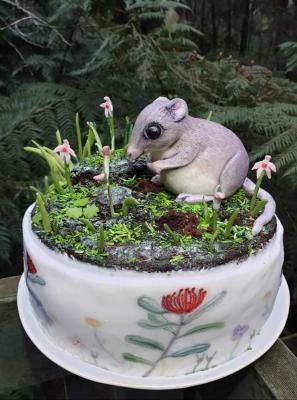 By Mikayla van Loon
For the third year in a row Cockatoo's Asha Billing entered the Threatened Species Bake Off challenge and this year she took home the open category award.
While winning doesn't come with a prize, Ms Billing said raising awareness around threatened species is why she does it.
"I think it's a fantastic way of raising awareness and is a fun way to raise awareness, particularly with young people in schools and just the general public who often don't hear of these things," Ms Billing said.
"To raise awareness around a threatened species, it's a serious issue and I think there are some people who maybe feel it makes light of how serious an issue it is but I think it's a good way of reaching people, which may not be in the know."
This year's theme was 'ecosystem engineers' which pulled everyone's focus to the big and small creatures that help modify, maintain, improve or create habitat in Australia's natural environments.
It saw 700 submissions from across Australia, the largest number of entrants the bake off has seen.
Acting Threatened Species Commissioner Dr Fiona Fraser said that Australia has over 1900 nationally listed threatened plants and animals.
"This year's Bake Off provided a fantastic opportunity to better understand the at-risk species found in your local area and to celebrate the amazing recovery work that is happening across the country," Dr Fraser said.
"These plants and animals play a critical functional role in their ecosystem such as pollination, erosion control or seed dispersal, and in doing so can provide benefits to many other species."
Ms Billing chose to bake a vegan double layer chocolate cake topped with the very cute long-footed potoroo and its habitat.
"I wanted to represent the habitats that they're in as much as I couldn't, because they do love tall dense forests which was a bit hard to put on the cake," she said
"They are digging animals so they're very, very important to the ecosystem as an ecosystem engineer, they move a lot of soil and they spread the mycorrhizal fungi around and they're very important in that way.
"So I wanted to do a chocolate cake to kind of try and represent the damp, mossy environment that they would be in and some of the native plant species, but also I had some holes where he'd dug into the chocolate cake just trying to represent that they are little diggers."
The long-footed potoroo is a critically endangered species because of the increased pressure to their habitat caused by logging, controlled burns and bushfires.
As someone who grew up surrounded by nature and as a passionate environmentalist, Ms Billing can see the error in the human destruction of our environment.
"The main reason I do most of the things I do in my life is to try and protect the animals I love so much.
"I think particularly with things like the potoroo, on one hand there is a very simple solution to ban logging and ban timber harvesting. That would make a massive difference and outcome and there are things that we can do that we're not doing."