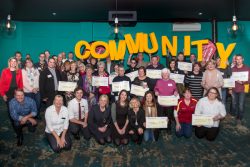 2017 saw the largest number of grants and rewards recipients at the annual Monbulk and District Community Bank's Community Investment and Rewards night.
This year 27 local groups, clubs and not-for-profit organisations shared over $36,000 in grants and rewards.
This latest Community Investment and Rewards night brings the bank's total community investment to over $200,000 in only five years.
As director of the Monbulk and District Community Bank Sarah Tebbutt explained, it's thanks to the Community Enterprise Foundation – the charitable arm of the Bendigo and Adelaide Bank – that the branch is able to give back to the community.
"The Community Bank Model is one of the most unique business models in the world, and we are so proud that our town has its own bank and able to give profits straight back to the source," Mrs. Tebbutt said.
"On the night, many clubs including the Monbulk Tennis Club, Girls Guides, Monbulk 1st Scouts, Monbulk Care Network, CWA, Monbulk, The Patch and St Pauls Primary school, Monbulk College, Monbulk Netball Club, Senior Football/Netball Club, Monbulk Junior Football, Monbulk Cricket Club, Monbulk Men's Shed, Monbulk Rotary, Monbulk RSL and the Monbulk Rangers Soccer club all received cheques."
Mountain District Christian School, Monbulk CFA, Marlins Swimming Club, Monbulk College and CWA Lady Night Hawks were also rewarded with grants for some outstanding projects.
"Monbulk CFA were in desperate need of funds for a new piece of thermal imaging equipment with a price tag of $11, 500," Mrs Tebbutt said.
"As a volunteer organisation this is a big ask, however in partnership with Monbulk and District Community Bank, the CFA raised $5500 and the bank was pleased to be able to make the $6000 contribution to purchase this equipment."
Peter Edyvane of Monbulk CFA accepted the cheque and explained the significance of this equipment in search and rescue operations saving precious time and potentially lives.
The CWA Lady Night Hawks also received a grant to purchase a commercial freezer that will assist them and others working on the wonder project called The Table.
"This project is a fabulous display of the caring and generous nature of our community and the freezer will assist this project greatly," Mrs Tebbutt said.
"Monbulk College and Marlin Swimming Club both also received grants for new equipment that will enhance their programs."
To find out more about how clubs or groups can participate in Monbulk and District Community Bank Branch's Community Investment and Rewards program, call in at 70 Main Road, Monbulk, phone 9752 1130 or connect with them on Facebook.