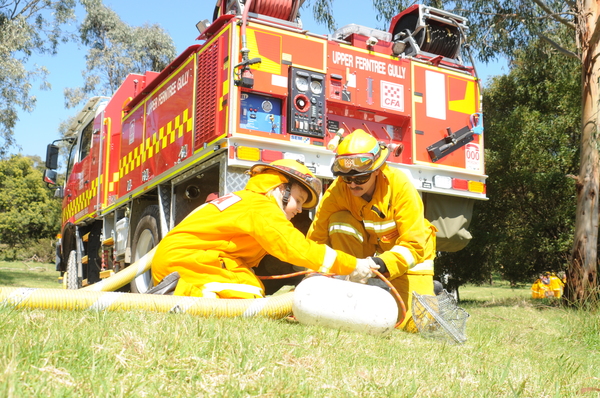 By Bonny Burrows
Upper Ferntree Gully Fire Brigade is seeking some fresh blood to join its "family".
The volunteer brigade nested at the foothills of the Dandenong Ranges, the brigade's coverage area that is one of the most diverse in the state.
"We've got two totally different areas to manage," Captain Peter Smith said.
"There's Lysterfield with three-storey multi-million dollar houses and then there's Upper Gully – there's not much development here," he said.
With the National Park, which attracts 60,000 to 70,000 people a month, and one of the busiest maternity hospitals around – The Angliss – on its doorstep, the brigade is kept busy all year round.
Its team of 36 firefighters and five non-operational members are swept off their feet, responding to an average of 150 call outs a year.
These jobs not only comprise residential and bushfires but car crashes, flood control, and assistance to other emergency services.
"We've all locals, so we've know the area inside and out. Our knowledge is used a lot (by others)," Mr Smith said.
Being volunteers, UFTG CFA members juggle their firefighter commitments with work and family.
As a result, the brigade wants local residents with daytime availability to join its ranks.
Mr Smith said this would appeal to mums and dads with school-aged children or any part time, casual workers over the age of 16.
"We have the most shortfall during the day as our members leave the area for work. So that 9am to 3 or 4pm timeslot is our hardest to fill," he said.
"So anyone available during the day would be fantastic."
For those interested, there is no cost.
All gear is provided and volunteers are put through a four to six month training course prior to their first turn-out.
For those who join, Mr Smith said they could expect to join "a very friendly, inclusive brigade".
"Everyone knows each other, we all become an extensive of one another's families," he said.
He said CFA was a great opportunity to learn new skills, develop confidence and give back to the community.
While people may be nervous putting their hand up for the job, the proud captain said he was never one to pass judgement on someone walking through the doors for the first time.
"I've seen my people grow from shy kids to confident men and women. The opportunities you have, you wouldn't get in other organisations and groups, and it makes you a better person for it," Mr Smith said.
"I sit back smile, and think 'geez, we've got some great people coming through'."
Upper Ferntree Gully Fire Brigade volunteers will be required to undergo a health check, and after the initial training, commit to a minimum of six hours a week of regular training, on Tuesdays and Sundays, along with turnouts.
If you are interested in finding out more, phone Peter Smith on 0438 330 361.