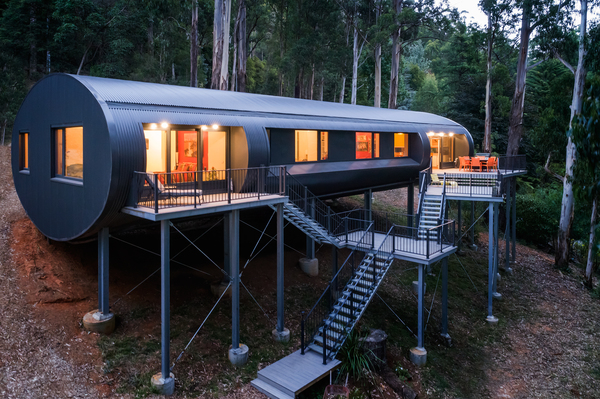 A passive eco home in Kallista was awarded the Best Energy Efficient Design at the 23rd Building Designers Association of Victoria (BDAV) Building Design Awards.
Winners were announced at the Annual Awards Dinner on Saturday 4 August 2018 at the National Gallery of Victoria and Kallista Passive House was up against contestants from all around Melbourne.
What makes this house so unique is the innovative design and smart technology which has been used in its construction to create a "future-proof" home.
A distinctive curved structure enhances fire safety, and R6 insulation ensures minimal energy requirements are needed to heat the home.
Designed to Passivhaus standards by local Blackburn-based firm Maxa Design, the project adopts a unique response to energy efficiency, using its form to help produce a highly-efficient building, by using R6 insulation to the ceiling and the floor area.
It also takes great care in closing any gaps within the building and providing a way for condensation to escape via small apertures to the floor area in the external cladding.
This year's awards featured over 30 categories, from single dwelling and multi-residential projects, to interior design, commercial, education, hospitality, heritage conservation, and public buildings.
The awards typically place an emphasis on sustainability in building design, with categories including 'Best Energy Efficient', 'Best Environmentally Sustainable', and a new category: 'Excellence in the use of Recycled Materials'.
BDAV President Lindsay Douglas says each year the Awards entries "go from strength to strength and provide not only the broader community with a window into the profession's capabilities, but foster within BDAV members a sense of professional pride and a benchmark for best-practice projects."
The contemporary style passive house was inspired by a fallen tree found on the vacant block during construction, and is practically free of heating and cooling costs.
It comprises of two bedrooms, a master suite with its own balcony, laundry, study, guest bathroom, formal entrance, and an open plan kitchen living area leading onto a large decked area.