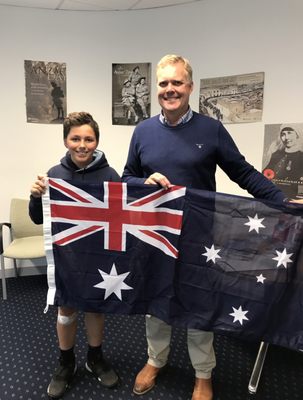 Next month 11-year-old Jarrah Sangster from The Patch Primary School will be attending the Asia Pacific Children's Conference in Fukuoka Japan as one of four Australian Junior Ambassadors.
Jarrah will be joined by over 300 other children from around the globe to participate in a conference that fosters friendship and peace between cultures.
Speaking to the Mail Jarrah said he went through a rigorous selection and interview process against many other applicants and was excited to visit Japan and talk with students form other cultures.
"I had to write a story, four pages long about why I should go and what would I say and how I would describe Australia," explained Jarrah
"I'm really excited about seeing all the kids from all over the world and leaning their new cultures."
"I do Japanese at school, and I'm excited to see japan, because I know it's very hygienic and they're very advanced in technology."
After meeting with over 300 other children at Martime Camp Jarrah will head to a home stay where he will attend a local Japanese school.
The Asian Pacific Children's Convention is a non-profit organization, which aims to promote international exchange and mutual understanding between children and young people from all over the Asian Pacific region.
The children who take park have the opportunity to exchange ideas with children from countries where the culture and climate may be very different from their own.
Through spending time together, they are able to break through barriers that divide people such as language and religion.
Last month, Member for Casey Tony Smith donated a flag pack to gift to the Japanese school that Jarrah will attend. Mayor of Yarra Ranges, Tony Stevenson also visited Jarrah at school to discuss his trip and wish him well.
Cr Stevenson told Jarrah that he intends to write a letter to the mayor of Fukuoka to thank them for hosting Jarrah on this trip.