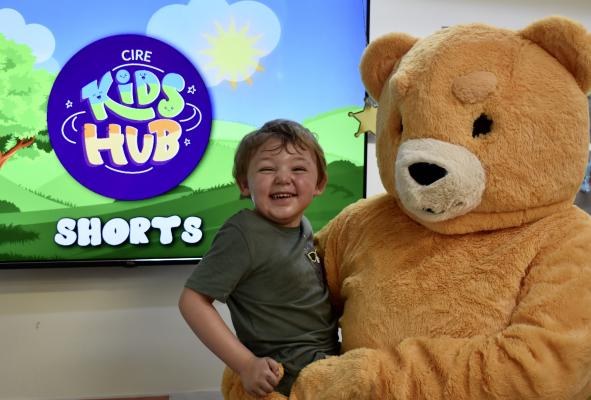 The Yarra Ranges is set to rewrite the records for Children's Week celebrations, with a mass community sing-a-long and the launch of an exclusive YouTube kids channel.
Cire Services will draw on its experience transitioning numerous services online this year to create a virtual Children's Week.
Due to pandemic restrictions, the sing-a-long will replace the usual Teddy Bears Picnic, which has become Cire's trademark Children's Week event.
The mass event will allow people of all ages to showcase their singing and dancing talents, or simply have fun by participating. It will emphasise the importance of participation and community, while Children's Services' mascot Benny the Bear will be a special guest.
Cire will also launch a local Kids Hub YouTube Channel during Children's Week, providing educational and interactive content for children and their families.
It will be professionally produced and presented by educators from Cire Children's Services.
The channel draws on the success of a pilot series developed during lockdowns. It saw Cire Children's Services social media reaching over 34,600 people.
Cire's Spanish program for youngsters also reached over 3,300 through the Kids Hub pilot.
Cire Children's Services executive manager, Diletta Lanciana, said "the success of the pilot was overwhelming."
"What made it so special was that Cire educators were the presenters so children could really relate to them," she said.
"The educators became their new on-screen stars and provided a sense of stability, certainty and normality given the challenges and disruptions of Covid."
The Cire Kids Hub channel features story times, sing-a-longs, activities for the whole family using regular household items and special themes, such as the upcoming NAIDOC week in November.
The Independent School Victoria's early years division has shown interest in the initiative, which is believed to be a first of its kind.
"The great thing about Cire Kids Hub is that youngsters and their families can tune in at any time, and feel connected to a community they know. It has a strong educational focus without the commercialisation in so many other children's programs," Ms Lanciana said.
This year's Children's Week's theme is friendship and safely connecting with others. The event will run from 24 October-1 November.
Registrations for the sing-a-long close on 21 October and the event will be held on 29 October.
To find out more or register, visit www.cire.org.au/teddy-bears-sing-a-long.